Rock River News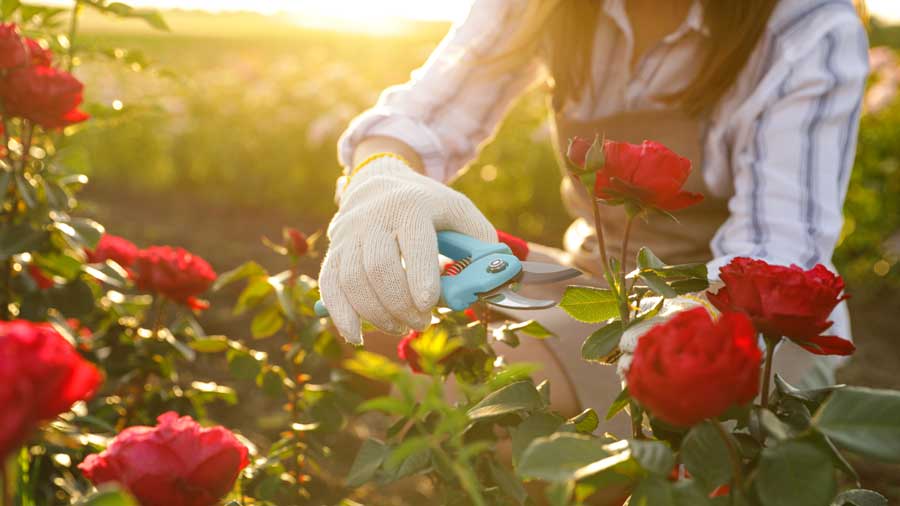 Part of the fun of owning a home is decorating it, and that includes the outside of it! Just one of the reasons we at Rock River make sure to design your home on generous, desirable plots of land. If you are excited to frame your home with some beautiful flowers, you know that planning the right time to plant them is essential. For many, roses are a beautiful addition to their gardens. If you have never planted roses before, here are some things you should know regarding when to plant them to achieve the best blooms.
Bare Root Vs Container
If you are browsing rose options from a mail order company, you are probably delighted (and possibly confused) by the array of options. As far as knowing when to plant them goes, the only difference you need to know is between bare root options and container roses. Bare root roses will be sent while the plant is in a dormant state, without foliage, and without soil on the roots. This means that bare root roses will not have any foliage that can be damaged by late frosts. Which ultimately means that it is safe to plant these earlier in the season than you would a container rose. For container roses, you should wait until your late spring frost has come and gone.
Know Your Zone
Knowing when to plant roses will greatly depend on what zone you live in. If you do not know what zone you are in, a quick search of USDA zones will show you.
Northern Zones
For the northernmost parts of the country, zones 1-5, April to May is the most ideal time to plant roses. Again, as a rule, aim to plant after your late spring frost hits. If you have your bare root roses and there is still snow on the ground, you can place them in a bucket with a bit of water covering the roots for a few days.
Southern Zones
For states in southern zones, 9-13, you can sometimes plant as early as January. If your soil is workable, meaning not frozen or compacted, you can plant quite early in the year. Generally, late February and early March are ideal times for southern zones.
Other Considerations
The amount of light your zone is receiving at certain points of the year is also important to take into consideration. Make sure that your roses are planted in a place and at a time when they will receive at least 6-8 hours of full sun a day.
If you are late to planting your roses, that is ok. But do avoid planting fresh roses in midsummer. These plantlings are not strong and established and are likely to die under the stress of extreme​ heat and sun. Once established and with a good root system, roses can withstand midsummer conditions.
And there you have it! Take your zone into consideration, keep an eye out for late spring frosts, and start planning your rose garden.
By Rock River Homes 1-26-2022